GPU and CPU Blender Render Farm
Is your 3D rendering extremely slow? Are you tired of your PC freezing or hanging while rendering? Our renderservice is exactly what you need. Render4You offers CPU and GPU rendering of Cycles, Octane, Vray, Redshift and Eevee with our Blender render farm.. Everything is possible. You can easily harness the power of our farm for you to dramatically reduce your render time. By integrating our plugin, you can send your data to the farm directly from Blender. Turn your workstation into a supercomputer - it's that simple. Rendering has never felt so good!
Do you have some Blender scenes to render? Try us out with a free 25 starter credit when you register!
Have fun rendering!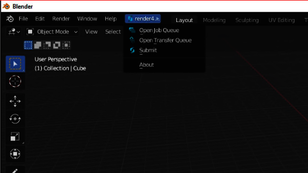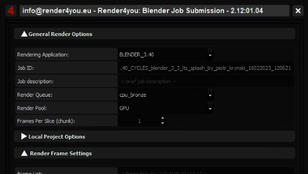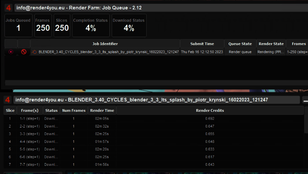 Blender versions we have on the farm
Here is the list of Blender versions supported by Render4You
Blender 3.64
Blender 3.50
Blender 3.41
Blender 3.40
Blender 3.30
Blender 3.20
Blender 3.10
Blender 3.01
Blender 3.00
Blender 2.93
GPU rendering has indeed come a long way since the humble days of 3Dfx or the very first NVidia cards. Today's render engines, such as Blender Render Farm, are practically on par with mainstream CPU powerhouses, giving you the ability to create stunning 3D art, animation and visual design. Not only that, but it makes the entire process easier, more fun and intuitive than ever.
Renderengines we support for all versions
Below is a list of the Blender compatible render engines that Render4You supports
Render4You offers support for a variety of Blender Render versions, ranging from 2.93 to the latest 3.64 LTS. Our Blender compatible render engines include Cycles, Eevee, Redshift, Octane, VRay, Standard, and any other which you can ask us to add on request.
Plugins we support for all versions
Below some of the plugins Render4You's Blender Render Farm does support.
Libraries we support
Below you can find a list of Blender compatible libaries that Render4You supports
We also support all major libraries, such as Botanic, Bricker and Scatter. We have designed our plugin to automatically update itself every time a new Blender is released.
Got Blender render animations to work on? You can try us out with the free starting credit of €25 right after you register!
Key features and benefits
We support all official Blender releases and offer support for custom builds upon request.
Blender rendering using the best engines, including Cycles rendering, Redshift rendering and VRay rendering, Octane rendering and Eevee rendering.
Render both frame sequences and still shots.
All types of Blender caches supported, including Alembic, Ocean, Fluid Cloth, Particle System, Dynamic Paint, etc.
Both CPU rendering with Blender and GPU rendering with Blender available.
All types of assets supported which Blender currently supports.
Support for uploads through external/packed assets.
Fully automated Blender integration which includes asset checking, scene versioning and scene setting validation.
All major plugins supported, including Flares Wizard, Flip Fluids, MecaFig, and many more.
24/7 dedicated tech support.
Join the 'big leagues' of 3D rendering today with Blender Render Farms. We offer full support for the Cycles, Internal, and Game engines, including Chaos Group's signature engine, VRay – continuously improving our Blender integration.